NEW Bromic Patio Heater Price List

You can access the new price list by clicking on the button below:

DOWNLOAD MSRP PRICE LIST
Bromic has announced a price change of approximately 7% across the board. The new prices are effective for all orders placed on and after Thursday, July 1, 2021.
Bromic's Minimum Advertised Pricing Policy (MAPP) is MSRP, so please be sure to update any advertised prices (such as in online stores, web listings, or print ads) by July 1.
Changes to Bromic Price List
Prices increased about 7%
Added Tungsten Portable in Natural Gas (availability unknown)
Removed Cobalt Gas and Replacement Parts – Not ready for market
For Platinum 316 Marine – Bromic item #s changed.
Added 316 Marine Grade Tube Suspension Kits (availability unknown)
Added Tungsten Recess Kits in White
Added Tungsten Tube Suspension Kit in White
Added Eclipse Pendant Electric Heater, Ceiling and Wall Mounts, and parts (limited availability starting in mid-June, additional projected for late summer/early fall)
Added Eclipse "Portable" FreeStanding Electric Heater (limited availability starting in mid-June, additional projected for late summer/early fall)
Learn more about Bromic Radiant Patio Heaters at RadiantPatioHeater.com.
---
NEW Gas Logs Price List & NEW Solaire Infrared Grills Price List
Coming by June 1 for a July 1 effective date.
---
Bromic Patio Heater Inventory Status…
Much Improved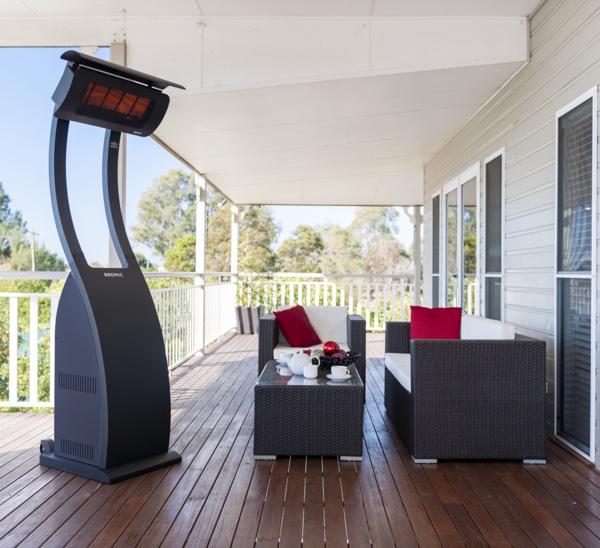 Please visit https://radiantpatioheater.com/status/ to view a color-coded status of our current inventory of Bromic heaters. Please check the webpage for the most current status, which is updated often.
We now have a large inventory of Tungsten Portable Heaters. These were the "must have" for last fall, and will continue to sell well post-lockdowns. Order now to have "one to show and two to go" to take advantage of customer interest and free shipping.
---
Coming Soon –
Bromic Eclipse Electric Heaters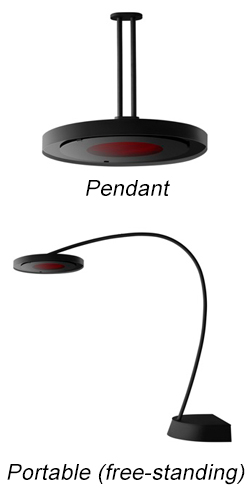 Bromic has introduced their new Eclipse Electric Heaters, in Pendant and Portable styles. Both require 220V-240V electricity.
Pendant – Comes standard with 24" twin-pole ceiling mount. Other optional ceiling mounts and a wall mount. Dimmer control is additional cost, but needed for full control of heater and integral LED lights.
Portable – moveable, within the limits of the electrical connection. Dimmer is included with each heater.
Learn more about these stylish heaters in Bromic's Eclipse Sales Presentation.

Availability:
Limited numbers in June (taking orders now)
Additional supply in late summer/early fall