2019 Atlanta HPBExpo

We will be exhibiting for the 41st consecutive year at the HPBExpo in New Orleans, LA, March 12-14, 2020, in Booth #1139. We hope to see you in this town of jazz and great flavors to see our product display, renew friendships, and to talk business.

[divider]
2019 Top Sellers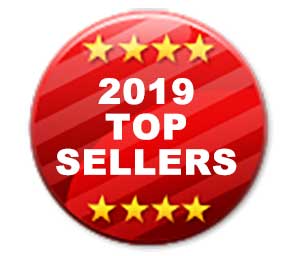 For your information and planning, here are the Top Ten Sellers, based on units sold, for our main categories of products. The percentages shown for the Top Five are compared to the total for those in the top ten, not overall. A quick analysis shows
Like last year, a quick analysis shows
That within our Gas Logs category, FireBalls continue to be huge (both Vented and Vent-free).
That more expensive styles sell more than lesser expensive ones.
The converse is true with Solaire, where our portables are the top sellers, but that is expected, given the greater cost difference between a portable and a backyard grill compared to differing gas log styles. The 27XL continues to be the best-selling "big" grill, being the convergence of size and price.
Within Bromic, 2019 continued with Electric outselling Gas at about 2 to 1.
Platinum Gas and Tungsten Gas were equivalent in sales for the first time. It appears there is a "Coke/Pepsi" choice being made by end users. Tungsten Portables remained strong.
FireBall colors were added. The best selling are mostly the darker colors, as the black soot from vented burner flame is not as noticeable against them..
Vented Logs
1) 4" FireBalls (20.7%)
2) Evening Prestige (17.0%)
3) TimberFire (10.7%)
4) Lone Star (10.4%)
5) Prestige Oak (7.8%)
6) Manzanita
7) Birch
8) Evening Lone Star
9) Mixed FireBalls
10) Massive FireBalls (5", 6", 7", 8")
FireBalls Colors
1) Natural (28.9%)
2) Dark Gray (27.5%)
3) Black (23.9%)
4) Light Gray (14.3%)
5) Beige (2.4%)
6) Brown (2.1%)
7) Mixed Colors (.7%)
8) Adobe Red (.2%)
Vented Burners
1) FX Flaming Ember XTRA Burner (31.7%)
2) CS-B Custom Pan Burner-Black (29.0%)
3) F Flaming Ember Burner (18.3%)
4) LC Multi-Burner (6.4%)
5) LD Mult-Burner (5.2%)
6) CXF-B Custom Embers-Black
7) TNA/TNA-E Tipi/Andiron Burner
8) DF-CF Double Face Burner
9) CS-SR Custom Pan Burner – Stainless Steel
10) CXF-SS Custom Embers – Stainless Steel
Vent-Free (Chillbuster and Alterna)
1) AFB FireBalls (46.5%)
2) C9 CoalFire (11.5%)
3) C5 Triple Burner (10.8%)
4) AFM FireGlitter (7.1%)
5) C1 Single Burner (6.0%)
6) C7 Single Burner
7) AFS FireStones
8) DFC7 Double Face
9) C8 Double Burner
10) C2 Double Burner
Solaire Grills – By Size
1) EV17A Solaire Everywhere (36.9%)
2) IR17B Solaire Anywhere (17.4%)
3) 27XL (9.9%)
4) IR17BWR Solaire Anywhere with Warming Rack (7.8%)
5) AA23A AllAbout Double Burner (6.6%)
6) IR8A Solaire Anywhere Mini
7) 27"
8) 30"
9) 21"
10) 42"
Bromic Patio Heaters
1) BR-ETNG60 6000W Black Electric (24.0%)
2) BR-ETNG40 4000W Black Electric (13.7%)
3) BR-PLA500 Platinum 500 Gas (12.0%)
4) BR-TNGPORTA-LP Tungsten Portable (12.0%)
5) BR-ETNG30 3000W Black Electric (9.1%)
6) BR-TNG500 Tungsten 500 Gas
7) BR-ETNG60-WH 6000W White Electric
8) BR-ETNG20 2000W Black Electric
9) BR-EPLA23 Platinum Electric and BR-TNG300 Tungsten Gas
10) BR-TNG300 Tungsten 500 Gas