NEW Gas Logs/FireBalls/Etc. Price List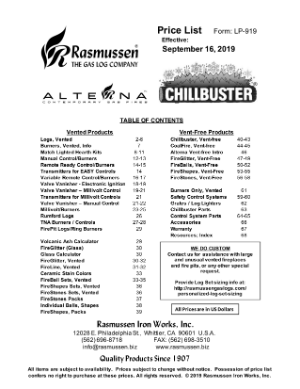 We have submitted it to the printer for printing and expect copies in two to three weeks. Please submit all hard copy requests to Orders@Rasmussen.biz
Price List Changes, Deletions, Additions in LP-919 from previous version (LP-916)
Changes
Most prices were raised 7%. First price change since September 2016.
All "Natural" Color prices for vented FireBalls, FireShapes, and FireStones are now the same as the other colors (has been this way for vent-free sets for years). We spend as much effort to make a Natural item as to make any of the other colors.
Reformatted all pages to Portrait orientation. Use of shading to visually separate product groupings.
Deletions
Deleted Custom Burner with SS Strap Legs. Use CS in SS with Round Tube Legs.
Deleted "Z" kits – ANSI retrofit safety control systems and in Factory-assembled hearth kits. Plenty of other options with ANSI certification.
Deleted SS chassis versions of Valve Vanishers, except for CS burner. Lack of sales, but can be special ordered. Note: SS chassis does not mean it is suitable for outdoor – none of the lighting control systems are designed, intended, or hardened for the outdoor environment.
FireDrops. Lack of sales. We have some remaining inventory of various colors. Contact for quote.
Additions
Large Birch sets. The "front log" is actually two pieces to make the width. Intended for use with LD burners. Top logs provide a full, tall stack for larger fireplaces.
Added Minimum Footprint Dimensions for all Vented Burner systems to aid in selecting the proper size for a particular size of fireplace.
Page 61 – added actual pan dimensions of the F, FX and DF-CF Burners.
Page 61 – added actual pan dimensions of the F, FX and DF-CF Burners.
Page 65 – added to VEI parts: Wall Mounting Bracket for handheld transmitter; Wired Wall Switch; and replacement pilot assembly and bracket for the various burner styles.
Page 66 – added Log Lighter Valves with brass flanges and keys.
[divider]