A Belated Happy New Year! Best wishes for a healthy, happy and prosperous 2018!
We start with a couple of important announcements, then provide you with some sales statistics from 2017. We finish with a word about the upcoming HPBExpo and a moment of inspiration.
[divider]
End of "Free" Filet Mignon Promotion for Solaire

Effective immediately, we have ended our "Free Steaks from BestFiletMignon.com" gift-with-purchase promotion for Solaire.
After over three years, our partner in the promotion suspended fulfillment while he explores the future of his business. Please remove all instances of this promotion from your websites and stores
[divider]
"White" Color No Longer Offered for FireBalls and FireShapes
We regret that we will no longer be offering White as a color option for any of our FireBalls sets.
For quite a long time we have been struggling with the adhesion and quality of our White coloration to all sizes and types of FireBalls. Our rejection rate is too large to continue offering White, as we will waste from 4 to 6 FireBalls just to get one good one. This is unfair to our customers who have other colors on order to which those rejected FireBalls could have been used, and a financial loss we will no longer accept.
This removal from our offering also applies to FireShapes. However, we do not have the same issues with FireStones and Birch, so there is no change in their status.
We have tried many different substances and processes to remedy this situation, but with no improvement. We will continue to seek a solution and hope to offer White FireBalls and FireShapes again in the future. We apologize for the inconvenience. Please pass this along to the people in your organization who can remove White as a color option for all of our FireBalls sets.
[divider]
2017 Top Sellers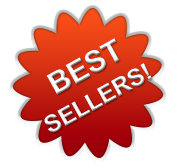 For your information and planning, here are the Top Ten Sellers, based on units sold, for our main categories of products.
The percentages shown for the Top Five are compared to the total for those in the top ten, not overall. A quick analysis shows that within our Gas Logs category, FireBalls were huge, and that more expensive sells more than less expensive. The converse is true with Solaire, where our portables rule, but that's expected given the greater cost difference between a portable and a backyard grill compared to differing gas log styles. Within Bromic, 2017 was a bigger year for Electric than Gas, but that Platinum Gas is still the king of the gas heaters.
Vented Logs
Evening Prestige (18.1%)
4" FireBalls (17.0%)
TimberFire (12.7%)
Lone Star (12.0%)
Mixed FireBalls (7.9%)
Prestige Oak
Manzanita
Birch
Evening CrossFire
Evening LoneStar
Vented Burners
FX Flaming Ember XTRA Burner (34.4%)
CS-B Custom Pan Burner-Black (26.6%)
F Flaming Ember Burner (17.1%)
LC Multi-Burner (8.5%)
CXF-B Custom Embers-Black (4.0%)
LD Mult-Burner
DF-CF Double Face Burner
TNA Tipi/Andiron Burner
TNA-E Enhanced Tipi/Andiron Burner
CS-SR Custom Pan Burner – Stainless Steel
Vent-Free (Chillbuster and Alterna)
AFB FireBalls (28.9%)
C1 Single Burner (14.2%)
C5 Triple Burner (11.1%)
C7 Single Burner (10.9%)
C9 CoalFire (10.5%)
AFM FireGlitter
C8 Double Burner
C2 Double Burner
AFS FireStones
AFG FireShapes
Solaire Grills – By Size
EV17A Solaire Everywhere (26.6%)
IR17B Solaire Anywhere (26.2%)
27XL (9.9%)
30" (6.9%)
IR17BWR Solaire Anywhere with Warming Rack (6.6%)
AA23A AllAbout Double Burner
IR8A Solaire Anywhere Mini
27"
IR17M Marine Solaire Anywhere
36"
Bromic Patio Heaters
BR-ETNG60 6000W Black Electric (24.0%)
BR-ETNG40 4000W Black Electric (18.3%)
BR-PLA500 Platinum 500 Gas (13.0%)
BR-TNGPORTA-LP Tungsten Portable (9.2%)
BR-ETNG30 3000W Black Electric (8.0%)
BR-TNG500 Tungsten 500 Gas
BR-ETNG60-WH 6000W White Electric
BR-ETNG20 2000W Black Electric
BR-EPLA23 Platinum Electric and BR-TNG300 Tungsten Gas
BR-TNG300 Tungsten 500 Gas
[clear]
We'll drill down and provide more data in next month's newsletter.
[divider]
HPBExpo 2018 – Nashville, TN

We will be exhibiting for the 39th consecutive year at the HPBExpo in Nashville, TN, March 8-10, 2018, in Booth #1600. You can't miss us, as we are the first booth when you enter the show floor. We are lookin' forward to seein' y'all!
[divider]