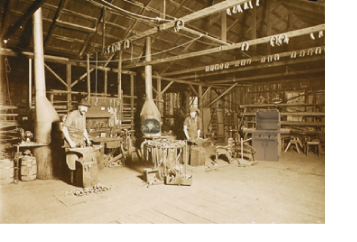 It was 1907 when Rasmus Rasmussen, a Danish immigrant, opened his blacksmith shop on Philadelphia St. in Whittier, CA. In addition to more traditional blacksmith services, Rasmus quickly developed a sideline business making fancy fireplace tools and screens.
Through the decades the business evolved and changed, Rasmussen Iron Works made everything from truck body parts, to steel buildings, to welding rod handles used to build ships for WWII. After the war, Rasmus' son, Ted Sr., opened a fireplace retail store in front of the manufacturing shop. Among the items he carried were gas logs.
It would be Ted Sr.'s son T.R. that would make a breakthrough in gas logs in 1958. After seeing a plumber trying to bubble natural gas through water to create a "dancing flame" effect for a restaurant's waiting area, T.R. developed the sand pan burner, which is still sold today and still provides the most realistic wood flame available in a gas log set.
When he couldn't find a manufacturer to make logs for him, T.R. developed his own molding technique, using real wood logs as patterns and capable of reproducing the smallest bark detail in the finest refractory materials available. Over the years, T.R. would create many styles of log sets, including oak, split, char, birch, manzanita, driftwood stumps, eucalyptus, and pine cones, as well as geometric shapes.
There is now a fourth generation of Rasmussen working out of the facilities on Philadelphia Street. T.R. and his son, Rett, have continued with innovations that have broadened the Rasmussen product offering. The Chillbuster line of gas log heaters for fireplaces and CoalFire sets for small Victorian and coal fireplaces, are hallmarked for their styles, performance and reliability. ALTERNA Contemporary Gas Fires (FireGlitter, FireBalls, FireShapes and FireStones) have brought modern and alternative styling to the fireplace, providing choices beyond the ubiquitous log. And Solaire Infrared Grills provide backyard grillers with the same high heat that professional chefs demand in their fine restaurants.
Through all of the changes over the years, quality craftsmanship, value, and industry leadership have been the constants at Rasmussen Iron Works, Inc. The Spirit of the Blacksmith lives on at Rasmussen!