Warm One Room, Not the Entire Home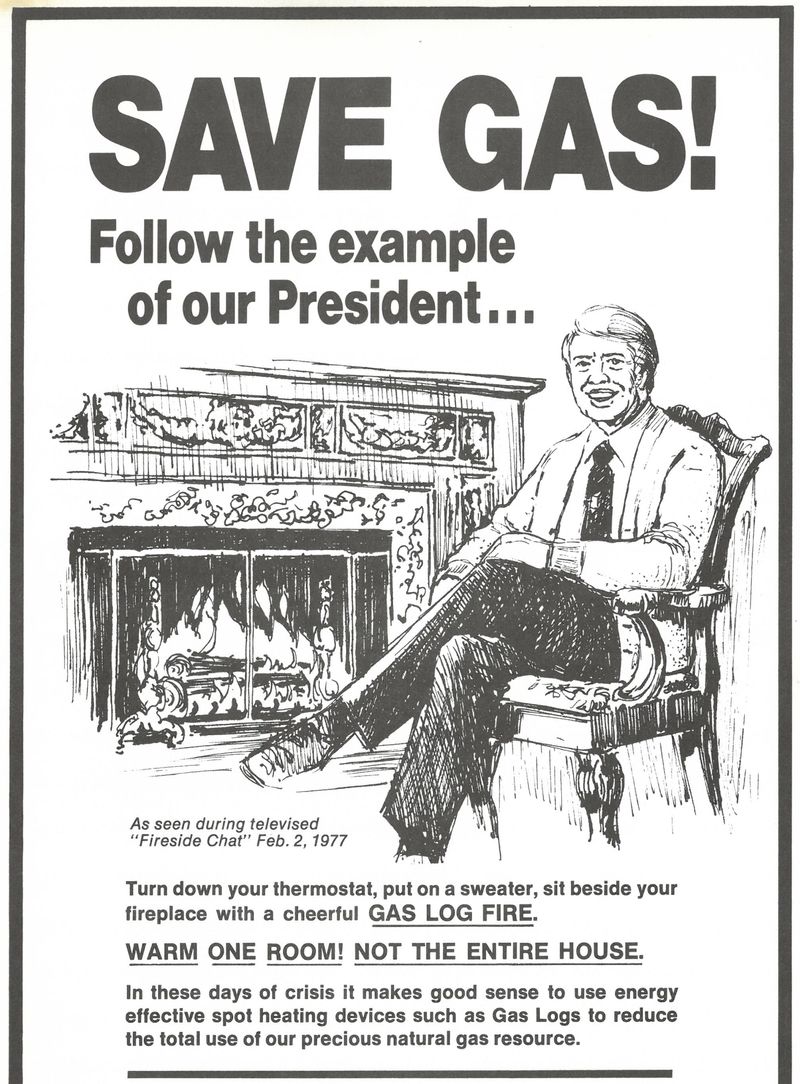 What's old is new. Here is an ad we ran in 1977, based on President Jimmy Carter's Fireside Chat on energy on February 2, 1977, which you may see a recording at https://www.c-span.org/video/?153913-1/president-carters-fireside-chat-energy
With the cost of all energy sources rising (along with everything else), Rasmussen Gas Logs, FireBalls, and FireStones play a role in helping your customers save money, by warming one room with their fireplace, rather than the entire home with a furnace. Every little bit counts.
Rasmussen fireplace sets also are an excellent and needed source of emergency heat in the event of a power outage. Every year we receive notes of thanks for helping keep families warm during emergencies.
In July and August our radio ads on the Salem Radio Network are reminding listeners of the utility and benefits of Rasmussen Gas Logs. Here are the ads voiced by Hugh Hewitt:

We are always appreciative when customers provide us with testimonial feedback on our products. Chris A. has had a Solaire 30" Cart model for 17 years, and recently told us:
I just wanted to comment about the fact, that as a small business owner, how very impressed I am with your company and product. Being a boater I know quite a bit about stainless steel, and the quality of the steel you use in your grills is the best I've ever seen. 17 years of constant outdoor exposure in Chicago and Florida (yes I moved my grill!) And not a spot of rust or corrosion anywhere on the grill! I wish I could say the same for my 2021 25′ center console boat! I've experienced other big, name brand grills reduced to the garbage pile after 4 years, but not yours. Also the warranty and level of support I have received on my grill has left me singing your company's praises to my friends. Well done and keep up the good work!
Read more Solaire testimonials at https://solairegasgrills.com/testimonials/
NEW Bromic Patio Heater List

You can access the new price list by clicking on the button below:

DOWNLOAD MSRP PRICE LIST
Bromic has announced a price change of 5% across the board. The new prices are effective for all orders placed on and after Monday, August 1, 2022.
Bromic's Minimum Advertised Pricing Policy (MAPP) is MSRP, so please be sure to update any advertised prices (such as in online stores, web listings, or print ads) by Monday, August 1, 2022.
Changes to Bromic Price List
Prices increased by 5%
Added 208 Volt versions of Platinum Electric 3400W. We currently have stock of Black, White, Marine Black and Marine White in the 208 Volt, which is often needed for commercial installations.
We are not stocking 208 Volt versions of the Platinum Electric 2300W, but we will accept special orders with ETA TBD.
We remain well stocked on all Bromic Heaters and Parts, except for Eclipse (see below for update).
Learn more about Bromic Radiant Patio Heaters at RadiantPatioHeater.com.
Success is not final, failure is not fatal: it is the courage to continue that counts.
— Winston S. Churchill