[custom_frame_center]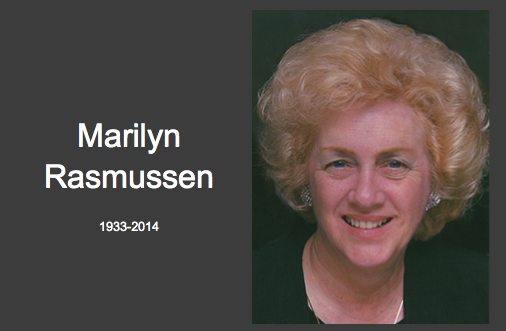 [/custom_frame_center]
It is with profound sadness that we report the passing of Marilyn Rasmussen on August 16, 2014, suddenly while on vacation at the family cabin in Cooke Pass, Montana. Marilyn was wife to T.R. for 58 years, mother to Rett, Cindy and John, and grandmother to Alyssa, Brendan, Teddy and Chris. She held down the home front while T.R. built and made his impact on the family business and fireplace industry. She was also a teacher of home economics at the high school, college and adult school levels. She participated in leadership roles in a variety of education and philanthropic organizations.
Marilyn served on the Rasmussen Board of Directors and attended most HPBA Expos. She enjoyed playing bridge, knitting and reading. She loved to travel, especially to casinos, where she was quite the slots player.
Marilyn was a caring person with an innate sense of fun. She loved life and being with her family and friends, and she was a friend to all. Her hearty laugh, bright smile and genuine goodness will live on in our memories.
Services will be held on Saturday, August 30, 2014 at 1 pm at Rose Hills Memorial Park, Whittier, CA, at the Hillside Chapel (Gate 17). Visitation will be held on Friday, August 29, 2014 from 5:30 – 8:30 pm at Rose Hills Memorial Park Visitation Center. In lieu of flowers, memorial donations may be made on her behalf to Juvenile Diabetes Research Foundation (http://oc.jdrf.org/) or to Mount Republic Chapel of Peace (240 U.S. 212, Cooke City, Mt 59020).
Thanks,
Rett Rasmussen
– Happy Veterans Day – November 11, 2023
– Bromic – New product announcement and Revised Price List
– New "VRP" Standing Pilot with Variable Flame Height Remote Control
– Holiday Closure Schedule
read more