NEW—Solaire Grill Point of Purchase Sticker.
The grill will sell itself– literally!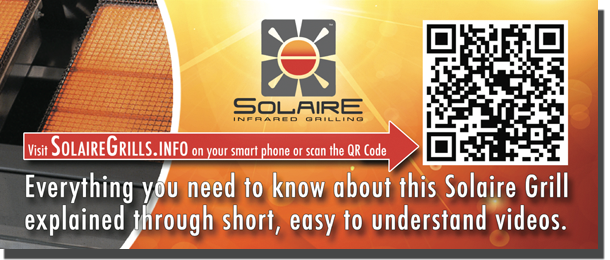 Announcing an innovative way to easily and thoroughly show all of the features and benefits of the Solaire Infrared Grills to potential customers. Just place these small (5" wide x 2" tall) easily removable stickers on the bullnose of the Solaire Grills on your display floor, and watch as potential buyers simply scan the QR Code or type in SolaireGrills.info on their Smart Phones. There they can view short, highly informative videos about the Solaire Infrared Grills.
The videos cover aspects of the grill such as:
Full exterior and interior tour;
Infrared burner;
Quality engineering and Made-in-the-USA construction;
Benefits of Infrared;
Exceptional Warranty;
And much more.
All of the critical factors that consumers want to know about why they should buy the Solaire Grill are thoroughly explained by Rett Rasmussen himself, so you or your sales representative don't have to.
Additionally, the potential customer can take all of the information home with them to review again or to show to others who may be involved in the buying decision.
See for yourself. Visit SolaireGrills.info on your Smart Phone to see the mobile version of the site or on your desktop or tablet to see the full version. Then fill out the form below to order your complimentary set of stickers for your current floor display, by your cash registers and for your showroom windows.
This is just another way Rasmussen Gas Logs & Grills is continually innovating to make it easy for you to sell Solaire Gas Grills.