Update on Estimated Lead Times
Gas Logs and Alterna Lead Times
We have two sources of delay right now:
Order backlog. We are fortunate that the volume of orders has actually increased from usual peak season in Nov and Dec. February is usually our quietest month, and it was on par with Dec. March continued the upward trend. No complaints, but we only have so many employees, and are unable to hire anymore – I'd hire ten more in an instant, but many people seem to be content with their extra unemployment and stimulus checks, rather than reentering the job market.
Delays in receipt of orders from our control valve suppliers. Maxitrol, which makes the valves for our VEI and EI systems, was delayed, resulting in a 4 to 6 week order backlog by the time we finally received a shipment from them four weeks ago. We are currently shy on parts for making ME, SE, and RE systems. It will be about June 21 before we receive enough valves to work on clearing off our current order backlog of ME/SPK3E, SE/RPK3E and RE/RMC1E orders.
The below are estimates, and subject to change without notice based on delays or improvements in component deliveries, and/or volume of orders. Larger orders will likely be on the outer edge or longer of the lead times.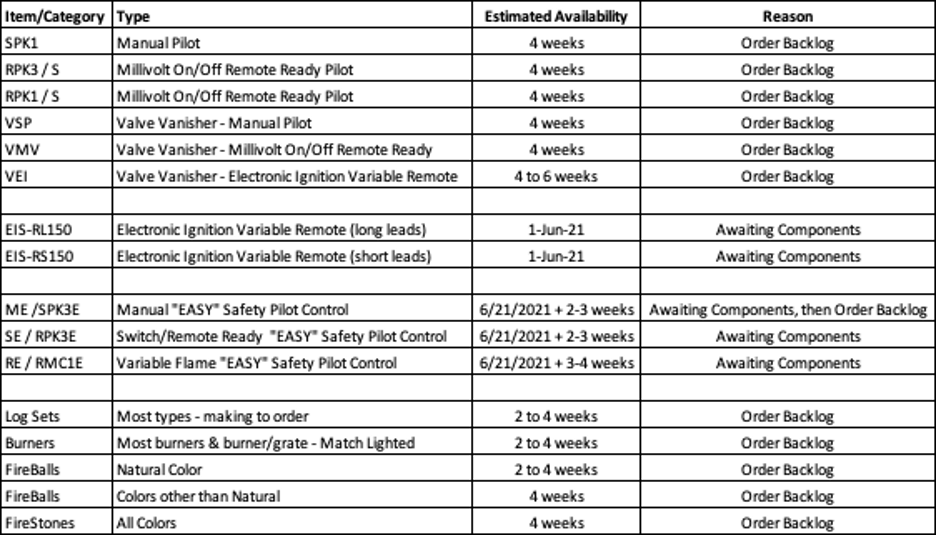 ---
Solaire Lead Times
1 to 3 weeks, depending on order size. Order volume, and thus lead times, are starting to lengthen as we enter the grilling season.
---
Bromic Patio Heater Inventory Status…
at a Glance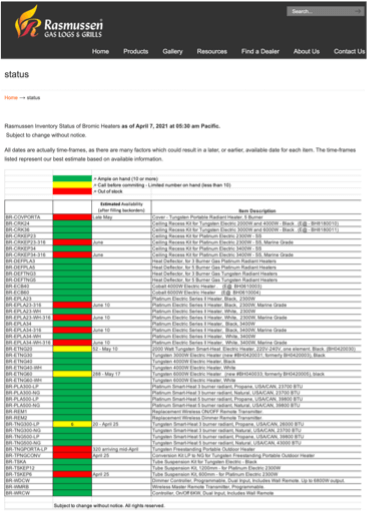 Please visit https://radiantpatioheater.com/status/ to view a color-coded status of our current inventory of Bromic heaters. Since August, patio heaters have been like toilet paper during the first three months of the lockdown. For the first time in months, we currently have good inventory on most items. We expect a continued upslope of Bromic sales throughout 2021, and have numerous orders with Bromic in support of our optimistic forecasts. Please check the webpage for the most current status, which is updated often.